Stress Analyzer
BK-510TM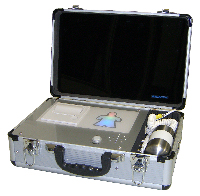 BK-510TM, a convenient diagnostic machine with a function of automatically screening a whole body, measures impulse responses through bioelectric responses, which are made at four regions of the human body classified according to attachment regions of electrodes when giving the body an unaware minute electric impulse.
Measurements show changes of bioelectric responses such as conductivity, balance, etc. of the human body.
Therefore, these measurements are used for indices, which indicate the status of the human body's stress.

*Reach for BK-510TM can be ordered as an option.

Special Feature
Series' Special Feature




EASY OPERATION

BK-510TM operation is very simple. Anyone can operate it easily by using a dialog system.


RECORDS of PERSONAL DATA

A patient can keep the personal records in printing sheet.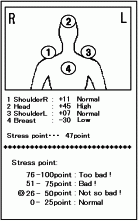 FAST and ACCURATE EXAMINATION

The system examines individual human body, head, shoulder, breast, in only 1 minute and automatically evaluates as stress value. Summarize comment are shown as a stress point.


Delivery Rsults

・hospital
・beauty-treatment clinic
・Relaxation Room (Beauty Salon/Spa)
・fitness club
・drugstore
・amusement park
・facility in hotel
・public facility

Series Related
Related Products
| | | |
| --- | --- | --- |
| | | |
| Bianka Light | Mental Voice SMILE | NERVE INDEXOR |